The end of Paris Fashion Week marks the end of the affectionately dubbed 'Fashion Month'. What began in New York in February ended wih spectacular showdowns at Louis Vuitton and Chanel this week. Highlights of Fashion Month this time have been wide-ranging; but here's my summary of the best bits.
1. Anything, everything Moschino
Those who know me know that I absolutely love the Moschino show. Every. Single. Time. Sure, there's Chanel, Dior, Balmain… those are the classics, and they're gorgeous. But, to me, Moschino is the embodiment of everything current, trending, innovative, exciting. It was the only show I watched the whole way through, without pausing, skipping a few minutes, or getting bored – I was entranced. Jeremy Scott never fails to impress, and this year was no different.

The inspiration behind the collection was packaging: models walked out in cardboard-looking dresses, and there was bubble wrap, shower curtains, and tape adorned with "We  clashing bondage-themed prints, moving on to streetwear (puffa jackets, caps galore), and dresses with naked figures painted on. Some of the most entertaining pieces ranged from a dress made out of curtains, to bin-lid hats, to a bag made out of toilet roll. And his all-star cast, including Kendall Jenner and the Hadid sisters made for some pretty interesting viewing. Oh Jeremy, you never fail to entertain me.
2. Chanel's Rocket Ship Launch
Another of the highlights of Fashion Month was when Chanel quite literally began a new space race; launching a rocket ship to mark the end of its show in Paris' Grand Palais.  Although the show still featured the classic Chanel tweed and smart tailoring; it was laced throughout with integalactic inspiration, such as the knee high metallic boots. The collection was also a little 60s, featuring round necklines and big, bouffant hair – smart, and chic. Lagerfeld himself came out to close the show as the rocket launched, accompanied by his godson, the adorable Hudson Kroening, who debuted the new Chanel bag – the Gabriella.

3. Nicki Minaj's Exposed Boob
If this didn't cause some awkward moments in the FROW, then what did, really? Nicki Minaj sat front row at Haider Ackermann in Paris, with her boob quite literally exposed – only an Agent Provacateur nipple pasty protecting her modesty. I don't know how her front row companions managed to keep straight faces…
5. Saint Laurent "After Dark"
Highlights of Fashion Month continued when Anthony Vaccarello excelled at Saint Laurent this year. Loud. Party. 80s. Those were the main threads that ran through Vaccarello's "After Dark" collection; so titled as it was solely focused on evening wear. The rockstar image of the brand that Vaccarello has constructed continued and exploded in new forms. As usual, the majority of the collection was monochrome; but we were surprised with occasional bursts of green and flowers. Big shoulders met rhinestones met tulle; knee high slouchy boots met ruffles met PVC. Romanticism, with a tough edge.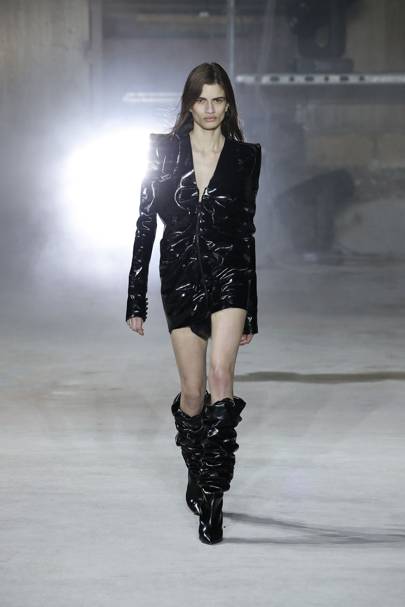 6. Louis Vuitton takes over the Louvre
The award for the most beautiful setting as one of the highlights of Fashion Month can definitely be given to Louis Vuitton, for holding its show in the Louvre's central Cour Marly. Celebrity guests were seated among beautiful statues. As for the clothes, seemingly it was less a collection, more a selection of beautifully curated and crafted individual pieces. A mélange of textures from silky slip dresses to edgy leather jackets came together in a variety of "everyday luxe" looks. The 70s seemed to be a key source of inspiration, too, with flared trousers and glamorous fur coats being key features throughout the collection.
Hope you enjoyed this catwalk summary. I don't know about you, but I'm already counting down the days until September for the S/S'18 collections!
Love,
Nina
xo